Quail & Turkey Feeders
QUAIL FEEDER (left)
600# – $1150
1000# – $1250
TURKEY-QUAIL COMBO FEEDER (center)
600# – $1150
1000# – $1250
QUAIL CENTRAL FEEDER & WATER STATION
Collects Rainfall & Condensation
600# – $1400
1000# – $1550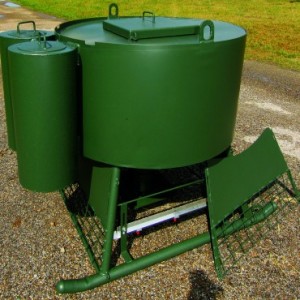 LA BANDERA QUAIL CENTRAL FEEDER & WATER STATION
Designed by Wildlife Biologist Gene Naquain. Features side panels to shield quail & limit pest access. Adjustable water drippers & feed pan.
1000# Feed Capacity & 24 Gallon Water Capacity – $1825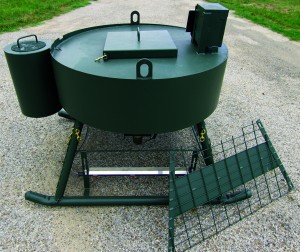 REGULATOR QUAIL CENTRAL FEEDER & WATER STATION
Collects rainfall & condensation. Equipped with an Eliminator Spinner to regulate feed, time and amount dispersed.
600# Feed Capacity & 8 Gallon Water Reservoir $1625
1000# Feed Capacity & 8 Gallon Water Reservoir $1775